About Liquid Sunshine Outdoor Products
Liquid Sunshine has been producing and selling outdoor vinyl shower enclosures for many years out of our retail store located in New Jersey. Our core company has been in business for over 60 years.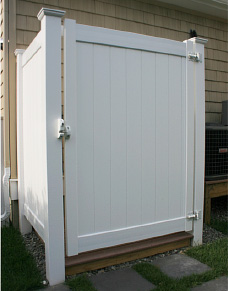 In the beginning, it was a struggle to sell outdoor shower enclosures efficiently. Every time a customer would walk through the door they would get a different shower enclosure than the last one. If the customer talked to a different person they would get a different opinion, a different price, and different advice. This made the whole process challenging. Never one to back down from a challenge, we took steps to reevaluate the production, sales, and installation processes, which resulted in our developing the Liquid Sunshine line of outdoor shower enclosures.
The Liquid Sunshine line represents a streamlined, efficient and simplified selection process. This allows us to manufacture and supply the highest quality vinyl outdoor shower enclosures available. Furthermore, our years of experience with the fabrication and installation of custom shower enclosures has provided us with the knowledge and expertise to help you with your project. The support and guidance that we provide along the way will ensure you end up with a professionally done DIY project.
Our success with the vinyl shower enclosure kits has inspired the birth of more outdoor living DIY kits. In recent years, we began to expand our product line with the addition of Beach Trash Bins, Louvered Pilings, and the Liquid Sunshine Clothesline. All of these products are constructed with the same precision and expertise that people have come to expect from the "Liquid Sunshine" family of products.
Our kits come with clear instructions, and all the materials you need from a name you can trust. All this, alongside instructional videos and support from a staff who cares will make your DIY project easy and fun. So you can rest assured that you are making the right decision with Liquid Sunshine.
The Liquid Sunshine Outdoor Shower Enclosure is a Patented product.  Patent #D673,659